Free Shipping on Business Cards

Graphic Designer Discounts
Graphic Designers Receive Special Discounts
Graphic Designers... we want to give you very special every day deals on all your printing needs. Whether your project is for you or a client, we know you will provide artwork that is ready to print. For that reason, we want to extend you a deep discount on all your future orders with us. On top of that, we can ship directly to your client so once you submit to us, your project is done!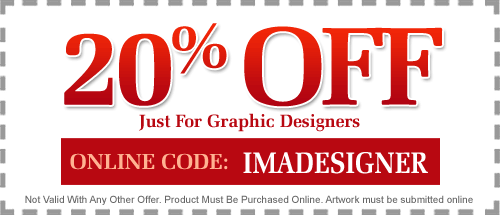 How To Use This Coupon:

Step 1: Download a design template above and design your product.
Step 2: Go to the upload page HERE and select the product you are purchasing, then upload your files.
Step 3: Enter your billing and shipping address, product information, shipping preferences and Coupon Code! Click redeem and you will see your adjusted price before you checkout.
At checkout, enter this code to receive your instant savings: IMADESIGNER

This coupon is limited to graphic designers purchasing online. Artwork must be submitted online to qualify for the coupon.
Download Design Templates:
HINT: right click, "save link as..."


Business Card Templates




Postcard Templates
4 x 6





5 x 7





8.5 x 5.5




Sticker Templates




---